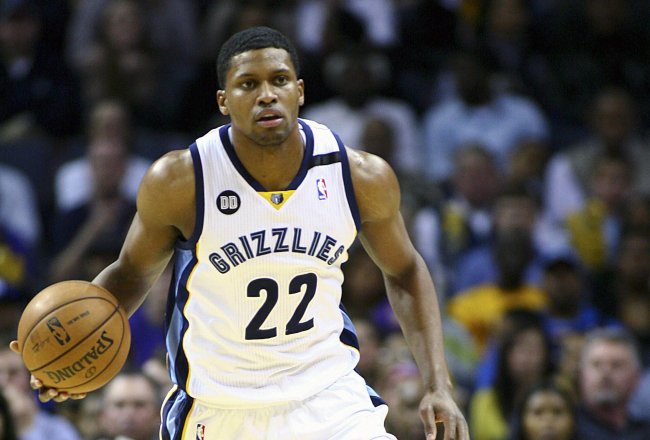 According to ESPN's Marc Stein, the Memphis Grizzlies have agreed, in principle, to trade away their starting forward Rudy Gay.
Gay, along with a perennial bench warmer, center Hamed Haddadi, has been traded to the Toronto Raptors. In exchange for Gay, the Raptors will send forward Ed Davis and guard Jose Calderon to the Memphis Grizzlies. It has also been reported that the Memphis Grizzlies will send Jose Calderon to the Detroit Pistons in return for Tayshaun Prince and Austin Daye.
The Memphis Grizzlies currently sit fourth in the Western Conference standing, behind the San Antonio Spurs, the Oklahoma City Thunder, and the Los Angeles Clippers.
This trade is being questioned by many as Rudy Gay served as a key cog in the Memphis Grizzlies' nightly attack. At 17.2 points per game, Rudy Gay was the leading scorer for the Memphis Grizzlies. Teamed up with center Marc Gasol and forward Zach Randolph, the three gave opposing teams fit as they outmatched them in skill, size, and talent.
Apart from the devastating hit that the Memphis Grizzlies team is sure to take, this proposed trade could weigh heavily on the psyche of Rudy Gay. Having been in the NBA for six seasons now and having spent all with the Grizzlies, Rudy Gay has had to endure many losing seasons. In spite of this, he has continued to progress and grow as a player. As the team finally got pieces in place to win, the team had great success, with Gay playing a huge part in this.
Now Gay is set to be returned to the state of his early seasons.
Going from one of the top contenders in the West to one of the bottom feeders of the East has to be a tough pill to swallow, as Rudy Gay will have to endure losing seasons yet again, amid the turnover and rebuilding that is to take place in Toronto.
For now, Gay will have to take his 17.2 points per game as well as his other intangibles across the border in efforts to improve the struggling Raptors.